ID Welder
Process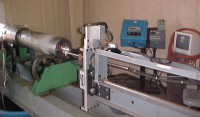 The system uses the Hot Wire TIG Welding Process. The system does ID buildup of non-magnetic stainless steel. A microprocessor controls the system, the welding current arc length, rotary speed, and wire feed speed.
Capacity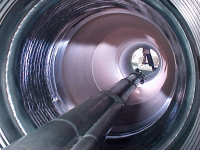 Minimum ID diameter is 3.125"
52" weld depth reach
46" machining depth reach
Weld depth per pass is .250" thick
Description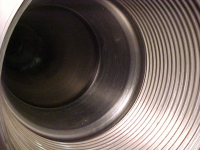 The Hot Wire system feeds the wire into the weld puddle directly into the arc. Preheating of the wire via an electrical power supply before it reaches the puddle allows higher disposition and lower dilution rates. The finished product attests to the validity of the process and the system.